IT Strategy & Business Transformation
Navigate Consulting has been providing expert guidance to its customers since 2003, helping them to achieve their IT strategies and change initiatives through the implementation of enterprise systems and the development of new solutions that focus on end-to-end business and application process landscapes.
In today's rapidly evolving business landscape, where digital transformation is the norm, we are proud to offer market-leading expertise with our team of certified consultants. Our areas of specialization include EA and Business Architecture, CIO Advisory, Portfolio and Service Management, Solution Architecture, and Change Management.
Our core focus is always on delivering tangible business value to our clients, enabling them to achieve the maximum return on their investments. We believe that by aligning our efforts with your business goals, we can help you stay ahead of the curve in a rapidly changing digital world.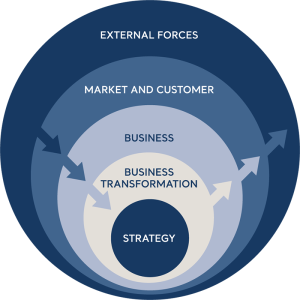 Navigate Innovation Model
Navigate Innovation Model is a delivery and governance model used to ensure long-term value realization, extensibility, and quality in delivered business capabilities and IT solutions. The model is flexible and can easily be adapted to your existing delivery and governance models or implemented to be used stand-alone.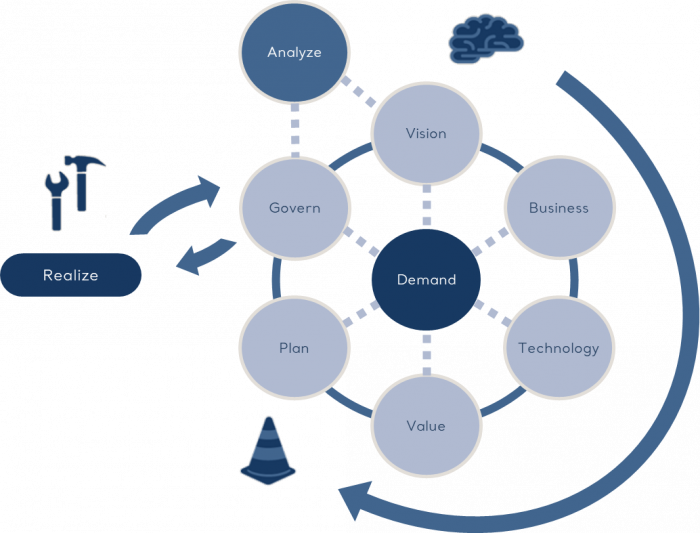 Demand and requirements analysis are central to the model and need to be done at the strategic, tactical, and operational levels. Navigate Consulting has created a framework for demand and requirements which adapts to your organization and conditions, and is based on agile value estimation, priorities, and continuous measurement of value realization.
One key condition for successful investments in business transformation and new technology is that invested resources are motivated by realized business value. Business change management is a key to success and positive return on investments. In the model, value estimation is done continuously, rapidly, and efficiently, with follow-up and continuously measurements of actual realized business values.
Vision and goals are the guiding principles in the model. It is important that the vision is aligned with the company's overall strategic direction. 
Strategies are realized through the business model architecture that links your core business to traditional EA domains and enables a common roadmap for business and IT.
Planning is done at the strategic, tactical, and operational levels. Strategic planning sets the strategic direction for initiatives and technology investments. Tactical planning evaluates alternatives and proactively decides on one or more roadmaps. Operational planning enables efficient delivery and is done continuously with a focus on speed and efficiency. Planning for all levels are done iteratively, both from a business and IT perspective.
Your core business which ties together your business and IT  operations through the business model architecture. The key is to put your entire company and core business at the center and create a portfolio of business models which forms a holistic point of view.
Business transformation that is driven by the core business enables you to do the right thing at the right time.
Communicating the strategic direction, and how to ensure quality and business value is important to achieve adoption and enthusiasm. Governance is done strategically, tactically, and operationally, both from a business and IT perspective. Our model is flexible to govern enterprise-wide change initiatives, both with agile and traditional methods, but can also be adapted to individual delivery or innovation teams.
Technology and its capabilities are also central to the model. As an independent consulting company, Navigate Consulting are experts on how the latest technology enables value for your business. For example, we have experts in the areas of ERP, Business Intelligence and New Technologies such as AI, Robotics, Process Automation and IOT.
As an independent consulting company, we are experts in delivery of IT solutions that support business demands and overall strategies, roadmaps, and architecture.
Our consultants can support you as both strategic and tactical advisors in program and project steering committees and can also operationally lead initiatives in both scaled agile and in traditional delivery organizations. Read more about how we work with Project Management